Gas Cooking Equipment
Our wide range of gas cooking equipment will satisfy any kitchen need. From commercial ranges to fryers, we only carry the best in gas cooking equipment from brands you trust. Find the heart of your kitchen equipment at Babak Food Equipment.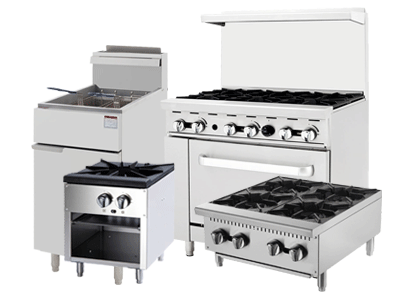 Commercial Gas Ranges
Babak Food Equipment offers a wide selection of commercial gas ranges that will keep up with your kitchen demands. From 24" to 72" ranges to the multifunctional gas range and griddle units, we have options suited for your restaurant, cafeteria, or food truck. Explore our commercial gas ranges and find one that belongs in your kitchen today!
Gas Hot Plates & Burners
Babak understands how important a reliable gas connected hot plate is to your busy operations. Whether you're looking for an installation or a countertop burner, we only offer the best in gas hot plates and burners. Find yours today!
Gas Stock Pot Ranges
Browse our selection of gas connected stock pot ranges. Whether you're looking for a wok range or several burners, Babak Food Equipment as a selection of gas stock pot and wok ranges that will surely suit your kitchen needs
Charbroilers
Prepare the juiciest burgers in town, or enhance the flavor of fresh, local produce with one of our heavy-duty gas charbroilers. No matter the size of your kitchen, Babak Food Equipment has a gas connected charbroiler perfect for your restaurant.
Gas Fryers
Create your most popular fried foods and snacks with a deep fryer that can keep up with all of your guests' cravings. From countertop to free-standing, high-efficiency deep fryers, Babak has a gas-connected fryer that will find a home in any size kitchen. Find one now.
Commercial Gas Griddles
Serve up a fantastic breakfast menu during a busy Sunday morning with one of our high-quality gas griddles. Babak Food Equipment offers a variety of dependable options that will yield consistent results each and every time.
Gas Ovens
The heart of any kitchen; Satisfy multiple purposes with a gas connected combi oven, or pinpoint a pizza oven that will deliver consistent results. Babak's selection of gas ovens will not disappoint. Explore our gas oven options now.
Salamander Broilers
Find a gas salamander broiler that'll yield the bubbliest french onion soup, or melt a breakfast skillet like a pro. Highly efficient and considerate of your kitchen space, we have many selections for your cheese melting or steak broiling needs. Take a look at our options.