Commercial Shelving
Selecting the appropriate shelving is necessary to ensure proper organization and storage of your essentials. Babak Food Equipment has a shelf that will suit your kitchen's needs.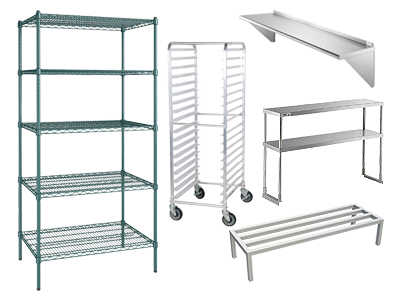 Over Top Shelving
Establish an efficient workflow by finding an over top shelf that will keep your kitchen organized.
Epoxy Wire Shelving
Say goodbye to rust with an epoxy wire shelf for your walk-in cooler.
Chrome Wire Shelving
Find a home for your inserts, attachments, and kitchen accessories with a chrome wire shelf from Babak Food Equipment.
Wall Mount Shelving
Wall mount shelves are great for keeping daily essentials nearby in an organized manner. Install one in your station to hold spices or accessories.
Dunnage Racks
Keep items organized and off the ground with a reliable Dunnage Rack.