Washing Station
You're ready to create amazing meals and provide top-notch customer service, so don't let dirt put a damper on your customer's experience. Stand out from the intense competition by taking the lead in food safety with high-quality cleaning equipment from Babak Food Equipment.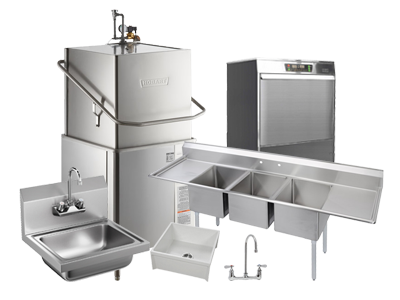 Commercial Dishwashers
Maximize washing efficiencies and ensure that proper rinse and wash temperatures are maintained with a high-quality dishwasher from Babak Food Equipment. Whether you are looking for a reliable under-counter or a heavy-duty upright dishwasher, we have the perfect washer for your kitchen.
Compartment Sinks
Babak Food Equipment knows that setting up an appropriate compartment sink is essential in your restaurant. We are certain you will find the perfect compartment sink amongst our vast options. Find a single compartment sink for washing fresh produce, or explore our 3 compartment options for a complete dish-cleaning experience. We have a compartment sink just for you!
Hand Sinks
A health and safety essential. Find and install a handwashing sink that compliments your kitchen. Whether it's a single hand sink or one with a stainless steel base, Babak Food Equipment has you covered!
Mop Sinks
No cleaning room is complete without a mop sink. Don't settle for just any sink. Find a design that works for your cleaning unit.
Faucets
We offer a variety of faucets that will compliment the design of your kitchen. From classic handle faucets to pull out spray faucets, Babak has a faucet for your handwash, compartment sink, and dishwashing needs.