Work Tables & Equipment Stands
Explore our wide range of work stations, tables, and stands. Ensure your kitchen is set up for success with just the right amount of space you and your team require to get through every busy day.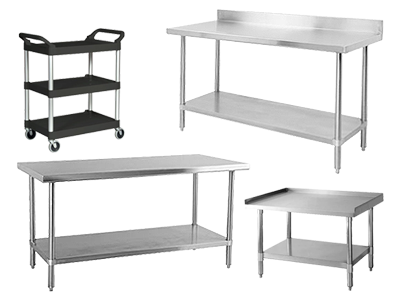 Standard Work Tables
Find a standard work table that provides you and your staff the space needed to execute your menu.
Backsplash Work Tables
Explore our options of stainless steel backsplash work tables suited to your busy food preparation needs.
Equipment Stands
Find an equipment stand to store and organize your prized kitchen equipment safely.
Bus Carts
Load up your essentials for easy maneuvering within your kitchen. Babak Food Equipment has a bus cart for you.