Hot & Hold
No one enjoys cold soup. A dependable hot and holding installation will maintain fresh meals at a temperature that meets health and safety regulations and exceeds customer's expectations. Serve guests or hold buffets with a quality steam table, or keep a warmer nearby for easy-to-serve hot-and-go meals. You put all this time and energy into cooking delicious meals, don't compromise quality with cheap warmers. Here at Babak, we'll ensure you find the right hot holding equipment that maintains the high expectations of your staff and customers.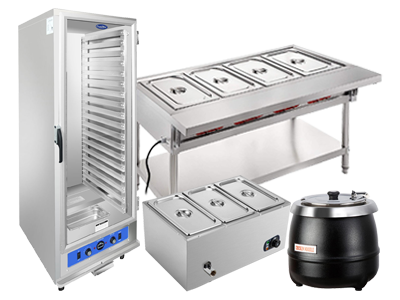 Steam Tables
A reliable steam table will hold your freshly-made food at optimum quality. Find an important part of your kitchen here, through our selection of steam tables.
Warmers
Your delicious creations deserve to be consumed just the way it is intended to. Maintain optimum quality through one of our soup or food warmers. Our selection of warmers are designed for reliability. Find one for your restaurant or cafe today!
Heating & Proofing Cabinets
Ensure your freshly cooked food is maintained to temperature standards with an insulated heater. Stay ahead of the competition and ensure your delicious food stays fresh and up to safety standards. Find your kitchen's new insulated heater today!