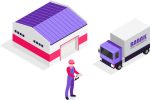 Usually ships in 3-5 business days.
Model: SK-89S
This commercial ice machine produces enough ice for a commercial kitchen, bar, hotel cafe, supermarket or restaurant. Digital control panel shows status of ice production.
Air Cooled
Stainless Steel
Storage bin with automatic shut-off when bin is full
Adjustable leveling feet
Self-clean system
Produces high-quality crystal clear ice cubes
Digital controller and display
Adjustable ice thickness
---


ETL Certified
Intertek's Certification program is designed to help to get products tested, certified, and compliant with North American safety standards.


ETL Certified
This mark assures consumers, retailers and regulators that products have been rigorously tested to comply with all standard requirements.