Commercial Refrigerators
We know not every kitchen is identical. Babak Food Equipment carries a wide variety of commercial refrigerators to fit your operations. Whether you're a pizza shop requiring an organized commercial cooler for all of your toppings, or a cafe looking to showcase your ready-to-eat sandwiches, we have the perfect commercial cooler for you!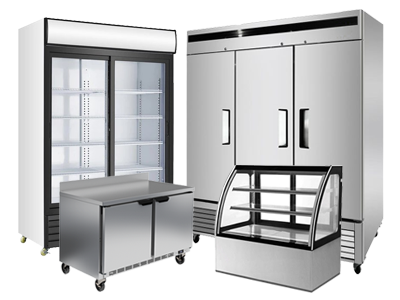 Reach-In Refrigerators
Explore our wide selection of commercial glass and solid door reach-in refrigerators. We are certain you will find the right refrigerator suited to your kitchen. From single door refrigerators to 3-door units, Babak Food Equipment has a reach-in refrigerator with the capacity to hold all of your top selling beverages and cold items.
Display Coolers
Attract guests with a full on display of beverage, salad, and sandwich options they will be willing to line up for over and over again. Our beautiful display coolers are perfect for your bakery, deli, coffee shop, cafe, or supermarket. Browse our wide selection of display coolers now!
Back Bar Coolers
Our high-quality back bar coolers are made to keep up with the demands of your thirsty guests. Our coolers are built to last and created to ensure all of your bar refrigeration needs are met. Find a cooler that fits perfectly behind your bar today!
Mega Top Coolers
An essential element for any line cook. We know how essential a dependable mega top cooler is in your operations. Maintain temperature throughout your busy lunch and dinner services, and overnight while your restaurant awaits the next morning. Explore our selection of mega top coolers today.
Pizza Prep Tables
The right pizza prep table will organize all of your essential ingredients and toppings in one area, allowing you to stay focused on the goal: making great pizza each and every time!
Find a pizza prep table that meets your busy demands.
Sandwich Prep Tables
Is your sandwich shop or cafe in need of a new sandwich prep table? From single door to 4-door units, we have the perfect size of sandwich prep tables suited to your kitchen's busy demands. Explore our wide selection of sandwich prep tables today.
Under Counter Coolers
Find the perfect under counter cooler for your kitchen at Babak Food Equipment. We have single door options made for tight kitchen spaces, and larger double door and 3-door coolers for larger facilities. If you need a reliable under counter cooler, we have a size that meets your needs.
Chef Base Coolers
Babak Food Equipment understands how important a reliable chef base cooler is during a busy lunch and dinner service. You need a cooler that will work at its most efficient to ensure your meats stay at optimal temperature before it hits the cooking stage. Find the right chef base cooler for your kitchen today!