Storage & Cabinets
No kitchen setup is complete without the right storage and cabinets. Organization is essential for improving workflow and keeping your stations tidy. Babak Food Equipment offers a variety of storage and cabinet units, from open and closed units to wall cabinets. We are certain we have a stainless steel storage cabinet suited for your kitchen layout.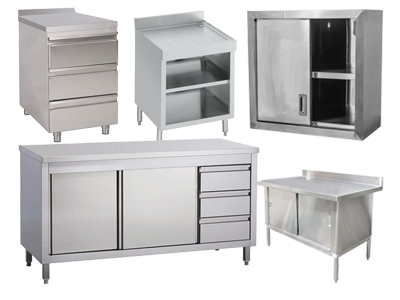 Open Cabinets
Perfect for storing clean dishes, smallware, and kitchen supplies, our selection of free-standing open cabinets are perfect for organizing your food preparation and service areas. Our selection of stainless steel open cabinets are built for reliability. Explore our high-quality open cabinets today!
Storage Cabinets
Babak Food Equipment has the perfect free-standing storage cabinet for your kitchen. Our quality stainless steel sliding door cabinets are built to handle all of your storage needs. Find one for your kitchen today!
Storage Cabinets With Drawers
Take your organizational skills to the next level with a high-quality stainless steel storage cabinet with drawers. Store your essential commercial kitchen equipment and smallware in a spacious Thorinox cabinet, while utilizing included drawers to conveniently gather essential supplies in one spot. If you need a dependable storage cabinet with drawers, look no further than Babak Food Equipment.
Storage Cabinets With Backsplash
We understand the importance of acquiring high-quality storage cabinets with backsplash in your busy kitchen. Easy to clean and designed to last, our selection of Thorinox cabinets with backsplash will make the perfect addition to your kitchen.
Wall Cabinets
Babak Food Equipment has the perfect wall cabinet for your kitchen and service area. Our selection of Thorinox wall cabinets with stainless steel shelves will ensure that no area of your restaurant goes unorganized.
Worktable Drawer
A worktable drawer will go the distance in establishing organization and convenience. Our stainless steel Thorinox worktable drawer is universal and easy to install. Pick one up for your station today!