Electric Cooking Equipment
On the lookout for electric equipment to station within your kitchen, cafeteria, or sandwich shop?
We have a range of electric ovens, panini grills, burners, and fryers to suit your needs. Explore our selection of reliable, heavy-duty electric cooking equipment today!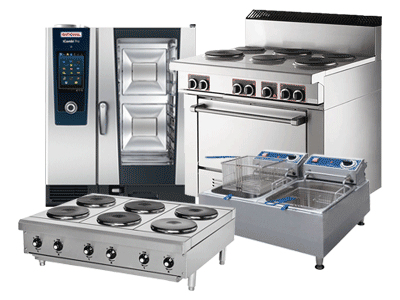 Commercial Electric Ranges
From 24" – 60" ranges, Babak Food Equipment has an electric commercial range designed to take on any of your culinary adventures. We know every kitchen is unique. This is why we strive to offer a variety of options to meet any restaurateurs' needs. Find your next commercial electric range today!
Electric Ovens
Here at Babak, we are certain you will find an electric oven perfect for your culinary operations. Explore our wide selection of electric combis, convections, conveyors, and deck ovens.
Electric Fryers
Explore our vast selection of electric fryers today! We've got countertop and standalone options that will satisfy your kitchen's requirements and your guests' hunger. Find your new electric deep fryer today!
Commercial Microwave Ovens
Looking for a quick reheat option? We know time is of utmost importance in the kitchen. Babak has a variety of trusted microwave oven options that will find a spot in your quick service unit. Explore our wide selection today!
Electric Hot Plates & Burners
Looking for a reliable electric burner that complements your kitchen size? At Babak, we offer electric hot plates that are dependable and considerate of space.
Commercial Electric Griddles
Find an electric griddle that best suits the needs of your busy diner. Built to last and always reliable, our countertop options will provide consistent results you can only expect from Babak Food Equipment.
Panini Grills
We know why customers flock to you for lunch. Perfectly toasted bread and melty goodness is what we guarantee with every electric panini grill we have to offer. Find an electric panini grill that will find a home in your kitchen.
Electric Crepe Makers
Perfect your crepe mastery with our professional electric crepe makers. Our commercial crepe making options will make you the talk of the town. Choose the best in electric crepe making equipment today.